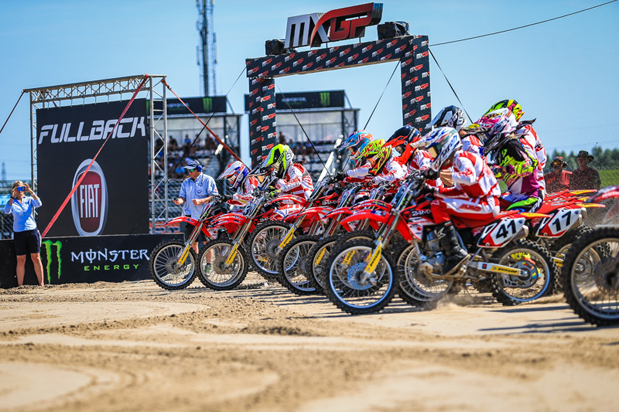 Mack Bouwense shined in the soft sand of home-round Assen to take the race one victory, while defending champion Emil Weckman failed to score a point in the penultimate race of the season.
Bouwense (NED), a wildcard rider for this event, was strong out of the start gates aboard his CRF150R taking the holeshot ahead of Weckman (FIN). The young Finn quickly regained the lead with Bouwense lapping slightly quicker over the first couple of laps. However, the defending champion soon started to pull away and earn himself a comfortable lead.
A small incident for Bouwense dropped him to fourth, but the home-rider was soon able to make his way back into second to try and close down the flying Finn. With only a few laps to go, an incident for Weckman saw him unable to finish the race, handing the race lead to Bouwense. A consistent, strong performance in the closing stages saw the wildcard rider take the chequered flag in first, with Hakon Fredriksen second and Leopold Ambjornson third.
Another good race from Luis Outeiro and Rasmus Moen saw the pair finish fourth and fifth respectively. The top ten was rounded out by Pascal Jungmann (sixth), Anton Nordstrom Graaf (seventh), Alexandre Bours (eighth), Andrea Bonifacio (ninth) and Henry Vesilind (tenth).
Currently second in the championship, Fredriksen's second place finish has closed the points gap to Weckman to ten points ahead of tomorrow's race at 09:35 local time.
Mack Bouwense: "It was definitely a good race. I ride a different bike at home in the Dutch championship where I'm number one, it's pretty cool but last year I ride the 150 in this championship and I like it. It's a different class of riding back home but it was a good day today. I'm really happy to be back and I hope to be back at the top again tomorrow but Emil rides the 150 every race and I am only a wildcard rider but we see."
Davy Dousselaere, Honda Europe Off-Road Manager: "The track here in Assen is quite tough for the CRF150R riders but I am very pleased with how they have raced today. It is great to have Mack Bouwense, who raced with us last year, back this weekend as a wildcard rider. He was very strong today and it was a very good result for him. I am also happy to see that Hakon Fredriksen and Luis Outerio's good form has continued, with them both proving to be good in a variety of tracks. It has also been good to see our other wildcard riders finishing just outside of the top ten."
Author: Honda 150 European Championship